Dr. Lawrence F. Andrews Selected for the 2023 Albert H. Ketcham Memorial Award by The American Board of Orthodontics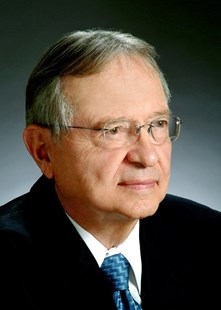 The American Board of Orthodontics (ABO) has named Lawrence F. Andrews, D.D.S., of San Diego, Calif., as the recipient of the 2023 Albert H. Ketcham Memorial Award, its highest honor.
The Albert H. Ketcham Memorial Award commemorates the achievements of Dr. Albert H. Ketcham. Created by the ABO in 1936, this award is presented annually to an individual who has made a notable contribution to the science and art of orthodontics. The award was presented on April 24 at the ABO Awards Night in Chicago held in conjunction with the American Association of Orthodontists Annual Session.
Dr. Andrews invented the Straight-Wire Appliance System consisting of standard and translation brackets directing teeth to specified positions with unbent archwires. His research identified the Six Keys to Normal (Optimal) Occlusion, the Six Elements of Orofacial Harmony, the Six Elements Classification System and other concepts and devices. In 1989, he authored the textbook Straight-Wire, The Concept, and Appliance. He has held nine U.S. Patents.
In addition, Dr. Andrews is a clinical professor at the University of California San Francisco and an adjunct professor at West Virginia University School of Dentistry. With his son Will A. Andrews, D.D.S., he is co-director of the L.F. Andrews Foundation for Orthodontic Education and Research. The foundation is active in research, teaching, publishing and new product development around the Straight-Wire concept.
Since 1971, Dr. Andrews has taught courses in the Straight-Wire technique and Six Elements Orthodontic Philosophy at locations throughout the world. He also has given numerous guest lectures and published many articles in scientific journals.
Dr. Andrews earned board certification from the ABO in 1967 and is a member of the College of Diplomates of the ABO. While Dr. Andrews worked on his Diplomate thesis in the early 1960s, he took samples of 120 naturally optimal occlusions that became the basis for his research that led to the Six Keys to Normal (Optimal) Occlusion and to the inventing of the Straight-Wire Appliance.
He obtained his dental degree from The Ohio State University in 1954 and served for two years in the U.S. Navy Dental Corps. He completed orthodontic training at Ohio State in 1958.
In 2015, Ohio State honored him with its Distinguished Medalist Alumnus Award, the university's top award among all its colleges. He was admitted to the Ohio State Orthodontic Hall of Fame in 2005. Also in 2005, the Pacific Coast Society of Orthodontists presented him with its Lifetime Achievement Award.
On receiving the award, Dr. Andrews said, "On learning from ABO President, Dr. Patrick Foley, that I was to receive the 2023 Ketcham Award, I was honored to have been chosen for this prestigious award and for the recognition for my work in orthodontics. I hope that the Six Keys, the Straight Wire Appliance and Concept, and the Six Elements of Orofacial Harmony, will continue to pass the test of time and that patients will be the ultimate beneficiaries."