The American Board of Orthodontics awards the 2016 Albert H. Ketcham Memorial Award to Dr. W. Eugene Roberts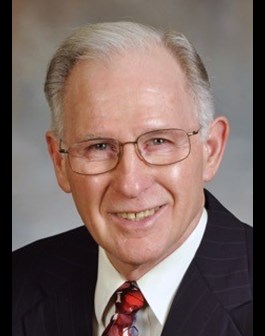 The American Board of Orthodontics (ABO) awarded the Albert H. Ketcham Memorial Award, its highest honor, to W. Eugene Roberts, DDS, PhD, of Indianapolis, Indiana, on Sunday, May 1 at the Excellence in Orthodontics Luncheon and Awards Ceremony, which was held in conjunction with the 2016 Annual Session of the American Association of Orthodontists (AAO) in Orlando, Florida.
The ABO created this award in 1936 to commemorate the achievements of Dr. Albert H. Ketcham, one of the pioneers in the specialty of orthodontics. The ABO awards this honor annually to an individual who, in the judgment of the award committee, has made a notable contribution to the science and art of orthodontics.
Dr. Roberts is professor emeritus of orthodontics at Indiana University, adjunct professor of mechanical engineering at Purdue University School of Engineering and Technology (Indianapolis), and visiting professor of orthodontics at Loma Linda University. In addition, he regularly teaches bone physiology and biomechanics at Saint Louis University and the University of Melbourne. The Melbourne lectures are transmitted to all orthodontic graduate programs in Australia. He has published 98 refereed articles, 139 invited papers and case reports, 38 textbook chapters, five electronic texts, 14 journal editorials, and four continuing-education courses with outcomes assessments. Currently, he serves as a lecturer, mock board examiner, external appraiser, and consultant in research and technology with a focus on bone physiology and biomechanics.
Dr. Roberts received his dental degree from Creighton University, a doctorate in anatomy (bone physiology) from the University of Utah, and clinical certification in orthodontics from the University of Connecticut. His career distinctions include his fellowship in the American College of Dentists and the International College of Dentists, as well as his certification (1987) and recertification (2002) by the ABO. He is also a member of Angle Midwest, a component organization of the Edward H. Angle Society of Orthodontists. Dr. Roberts served on the Board of Directors of the Great Lakes Association of Orthodontists (GLAO), and he represented the GLAO on the AAO Foundation (AAOF) Board of Directors. He is currently the editor-in-chief for the International Journal of Orthodontics & Implantology and consultant editor for Current Osteoporosis Reports.
Dr. Roberts has received numerous awards and honors throughout his career, including an honorary degree in medicine from the University of Lille Faculty of Medicine (France); a U.S. Navy Commendation Medal with Combat "V," the Isaiah Lew Memorial Research Award from the American Academy of Implant Dentistry Research Foundation; the Louise Ada Jarabak Memorial International Teachers and Research Award from the AAOF; the Jacob A. Salzmann Lecture (AAOF); and the Dale B. Wade Award for Excellence in Orthodontics (ABO). Dr. Roberts has presented numerous memorial lectures, including three for former Ketcham awardees: Dr. George Grieve (Canada), Dr. Fred West (University of the Pacific), and Dr. B. Holly Broadbent (GLAO).